VIENNA FILM AND SERVICE PRODUCTION:
Optimise your film production
AUSTRIA'S ALMOST UNRIVALLED INCENTIVE MODEL
Austria introduced a multifaceted funding model in January 2023 that provides for a reimbursement of at least 30% for different film production projects. This model applies to feature films, documentaries, international co-productions, TV series, films for streaming services and certain production components. This makes Austrian film and service production, especially in Vienna, increasingly attractive for international filmmakers.
Green Filming and Staggered Reimbursements
Productions can achieve a repayment rate of at least 30% up to 50% if they meet certain criteria such as green filming (+5%). Austria is the first European country to offer such exceptionally high rebates, thus offering international productions attractive incentives to shoot films in Austria with local service productions and to complete them, at least in part (key words: post-production, film music, animation).
COOPERATION WITH AUSTRIAN SERVICE PRODUCTIONS
In order to benefit from these rebates, international production companies are obliged to work together with local service producers. The Austrian service producers not only contribute their industry knowledge, international experience and local network, but also guarantee a smooth process with all funds and state funding agencies. They not only know how to optimally implement filming in Austria, but are also adept at presenting budgets for different accounting regimes to tax authorities, investors and funds, regardless of the country.
WHAT IS PROMOTED AND HOW
Maximum funding per project:
5 million (feature film)
7.5 million (series)
Minimum spend in Austria:
Fiction: 150,000 Euro
Documentary: 80,000 Euro
Animation, VFX, music, post-production: 25,000 Euro
Minimum total budget:
1.8 million (feature film)
600,000 (documentary)
SELECTING THE RIGHT FILM AND SERVICE PRODUCERS IN AUSTRIA:
TIPS FOR FILMMAKERS AND THE VALUE OF CAFP
When choosing a film and service producer in Austria, especially in Vienna, you should consider these factors:
Accounting: Make sure that the service producer has internationally experienced accounting. The budget may always be the same, but tax authorities as well as funds, other funding agencies, TV stations or investors have different requirements in each country for the presentation of the accounting of the figures. Experienced service producers know this and, above all, can work perfectly with your accounting and controlling departments.
Reputation and experience: Look for a producer who has won national and international awards. This means that he can bring a production to a successful conclusion, otherwise he would not have any awards.
Green Filming Bonus: Look for a service producer who is either a Green Filming Consultant or whose production company is Green Certified. Either of these is required for the 5% Green Filming Bonus, the Green Filming Consultant is required for the obligatory Green Report.
Certified Austrian Film Producer - CAFP: Film producers who are designated as Certified Austrian Film Producer, abbreviated CAFP, have a "seal of quality" that is awarded by the Chamber of Commerce. The prerequisite is that the production company or producer has experience and appropriate training, usually academic.
In concrete terms, this means that production companies that meet these criteria are also well-versed in all other areas of film production:
Location scouting - knowing exactly where to find which landscapes and moods.
Permits - experience in negotiating with authorities about necessary filming permits
technical competence - the right equipment at the best price
communication - a team of experts for internal and external communication, e.g. to the local and international press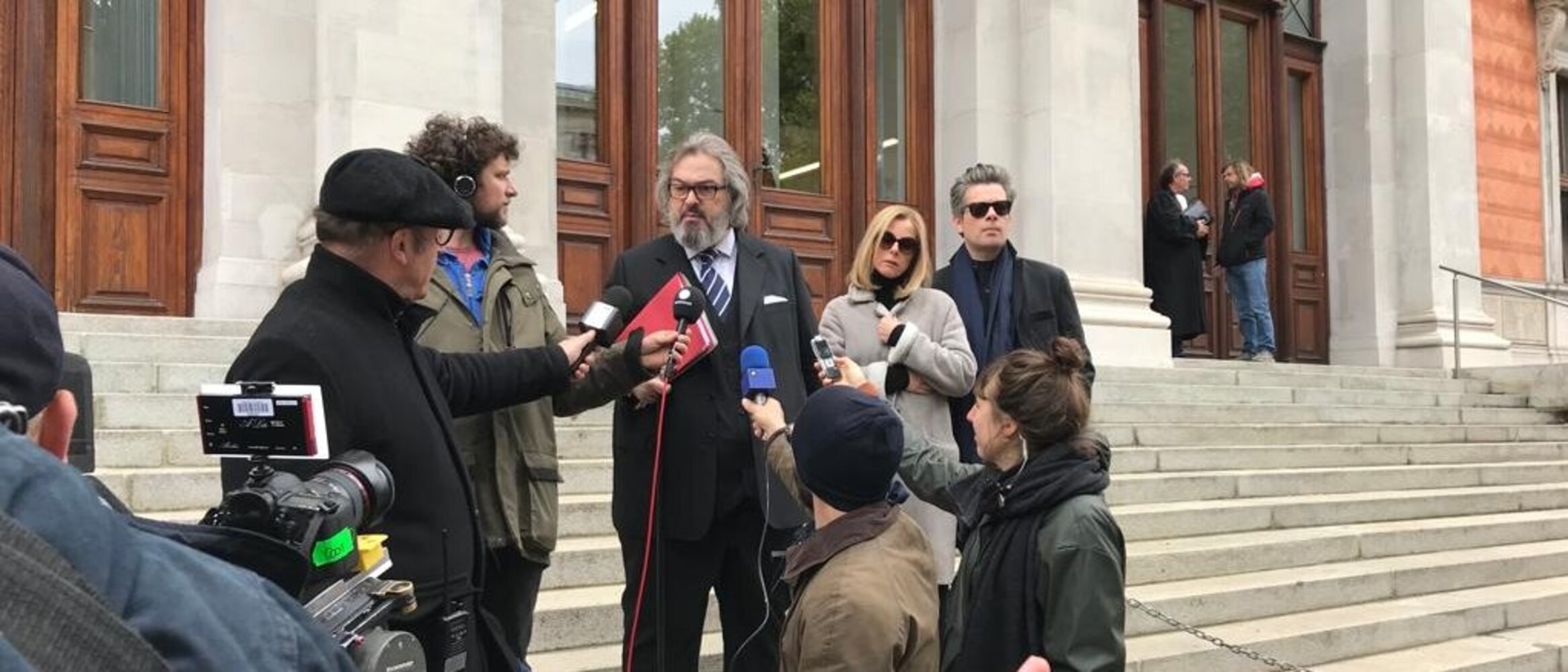 DISCOVER AUSTRIA'S CHARM:
EXTRAORDINARY LOCATIONS, BUSINESS OPPORTUNITIES, AND MORE
Austria is a culturally rich and safe country, internationally renowned for its high quality of life and competitive economy. Discover extraordinary locations for your film, benefit from a modern infrastructure and attractive business models. Talented and experienced filmmakers, like Wolfgang Ritzberger, and production companies, like RitzlFilm, are important players in the Austrian film industry.
EXCEPTIONAL LOCATIONS
Explore breathtaking, mighty mountain ranges (with snow even in summer), majestic castles and palaces, picturesque villages and river and lake landscapes as inviting as a postcard. Austria's unique blend of history, manifested in historic buildings, and modern architecture provide a versatile backdrop for their production. And all within striking distance!
ATTRACTIVE BUSINESS LOCATION
Austria's new film funding model, unique in Europe, offers up to 55% re-paid for eligible productions. With political and social stability, competitive framework conditions and the advantages of EU membership, Austria is an ideal destination for major productions.
CULTURAL NATION
Austria has a thriving international theatre and film scene, unique costume and prop depots, outstanding actors and actresses and a competitive pool of extras. Experience the richness of Austrian culture on and off the set. The State Opera in Vienna, the Salzburg Festival and the New Year's Concert at the Vienna Musikverein are world-famous theatres and events.
MODERN INFRASTRUCTURE
With 5-star hotels in remote areas, central accessibility and short distances, excellent transport networks, guaranteed snow in glacier regions and low logistics costs, Austria offers attractive framework conditions.
HIGH QUALITY OF LIFE AND SAFETY
With a low crime rate, social security, good health care and a rich cultural and leisure offer, Austria provides a pleasant and safe environment for residents and visitors alike - and even more so for their filming.
COMPETITIVE COSTS
Austria offers a competitive cost of living, with Vienna being more affordable than major European cities such as London or Paris.
FINANCIAL INCENTIVES
In addition to the new funding model, Austria supports film productions through Film Location Austria (FISA), various national and regional funding opportunities, thanks to the service producer do not pay value added tax (VAT), as the reversed charge agreement applies within Europe and with most countries in the world.
MUSIC, MUSIC, MUSIC
Austria offers two large studios for recording film scores that can even accommodate a large orchestra: one of the supposedly best studios in the world in the former film city on the Rosenhügel (Synchronstage) and the no less legendary recording studio in the Konzerthaus (Tonzauber), where Peter Kraus and Herbert von Karajan have already recorded.
NEW SOUND STAGES IN VIENNA.
Two new soundstages are currently being built in the Port of Vienna and are scheduled to open in 2024. With a floor space of more than 3300 square metres, they will meet international standards and offer space for several productions at the same time. The Port of Vienna in the east of the city is only 20 minutes away from the city centre with its international hotels and sights.
EXPLORE FILM FINANCING OPTIONS IN AUSTRIA
WITH A PRODUCTION SERVICE OR CO-PRODUCER
Discover the various funding opportunities for film productions in Austria, ranging from national programmes to regional funding, which provide a solid foundation for your project. Working with a local production service provider or co-producer can help you access these funds and manage the application process.
FISAPLUS (FILM INDUSTRY SUPPORT AUSTRIA +)
FISA+ implements the new funding model with attractive rebates in Austria for international productions. The funding is provided by an Austrian service producer and covers between 30% and 55% of the planned expenditure in Austria. Funding is available for feature films and documentaries, TV films or series, both individual episodes and entire seasons, also for streaming providers. Funding is also available for post-production or only parts thereof, such as the recording of film music.
The ÖFI, based in Vienna, supports and promotes Austrian filmmaking. It provides financial support for the production, distribution and promotion of Austrian films and maintains an extensive archive. The ÖFI is known for its international funding programmes, which support the development and distribution of Austrian films worldwide, often requiring cooperation with a local production service provider or co-producer. The ÖFI is a contact point for international co-productions.
The Austrian Broadcasting Corporation (ORF) supports local film production through the Film/TV Agreement. A prerequisite for funding is that the projects are supported by the Austrian Film Institute or other national film funding organisations. Applications must comply with the film funding and ORF guidelines and must be submitted to the Austrian Film Institute.
Federal Ministry for Arts, Culture, the Civil Service, and Sport in Austria
The Federal Ministry offers funding for various areas of the arts, including film. The funding programmes aim to support the development, production and distribution of Austrian films as well as to promote international cooperation and the training of filmmakers.
The Vienna Film Commission supports national and international filmmakers filming in Vienna. As a bridge between the film industry and the Vienna City Administration, it helps filmmakers obtain the necessary permits, find suitable filming locations and establish contacts with service partners in the industry.
REGIONAL FINANCING
---
The VIENNA FILM FUND provides development and production funding for independent production companies with a permanent establishment or subsidiary in Austria. Funding is mainly in the form of soft loans for feature-length projects, with a regional effect of at least 100% spent on local talent, creative staff, and production facilities.
The state of Lower Austria provides funding for film and television productions, supporting domestic and international projects that showcase the region's cultural and natural beauty. Funding is provided in the form of grants and soft loans.
The Burgenland Film Commission supports national and international film productions in Burgenland. Services include location scouting, crew and equipment sourcing, and obtaining shooting permits. They also offer funding and consultation services for filmmakers.
CINESTYRIA supports film producers through funding and film commissioning. They offer non-repayable funding for productions with a connection to the Styria region, as well as a regional economic impact and domestic and international distribution potential.
The Upper Austrian Film Fund provides funding for artistic film projects created by filmmakers based in Upper Austria or films that explore Upper Austria in an innovative way.
CARINTHIA FILM COMMISSION (CFC)
The CFC promotes Carinthia's landscapes and cultural diversity as a film location. As a free resource, the CFC provides location scouting, supplier recommendations, and film funding for filmmakers shooting in Carinthia.
The state of Salzburg's film funding program supports film arts and is available to emerging artists and established professionals. Funding is available to applicants who can demonstrate existing or likely funding from other sources.
Cine Tirol Film Commission is the first point of contact for film productions in Tirol, offering free professional services. They aim to promote Tirol as a film location and provide a production incentive for selected projects.
The film funding in Vorarlberg supports cultural and artistic projects, as well as the work of film clubs and small cinema operators. The funding for small cinemas aims to maintain these businesses. A separate film funding program supports films focusing on Vorarlberg as a cultural, economic, or tourism destination.
Plan your filming in Austria in good time to benefit from the numerous financing options available in Austria for film productions and take advantage of the country's commitment to supporting the film industry. With a diverse range of national and regional financing options, Austria is the ideal destination for filmmakers seeking a solid foundation for their projects. Working with a local production service provider or co-producer can help you access these funds and ensure a successful production.